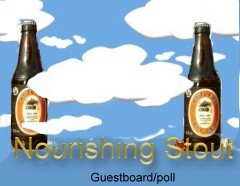 Beer label scrap book

About 35-40 years ago, my father (Fred Nicholls) whilst working at the Bass / Mitchells and Butlers brewery, Wolverhampton, was given a scrap book containing over 400 beer labels.
Although many of the beer labels originate from around the country, I have been led to believe that most of the beer labels contained on this site were sold locally, in and around the Wolverhampton, West Midlands area.
At the moment I only have about 100 English beer labels displayed on this site, the Best of the rest shall follow shortly.

I believe the majority of the beer labels are from the late 5Ts early 6Ts.
To preserve the bandwidth on this site, I have reduced the size of the main beer labels jpegs. If you would like a larger copy of any of the beer labels on this site Email me with the details of the label / labels you require.